1. REPORTS ARE NOW AVAILABLE ON THE DASHBOARD
The radio plugging & airplay monitoring reports and airplay recording snippets are now available on the releases page. You can listen to the snippets directly, or easily download all the files in a zip file. We'll make reports of all of your past campaigns available, and upload new summaries here as well.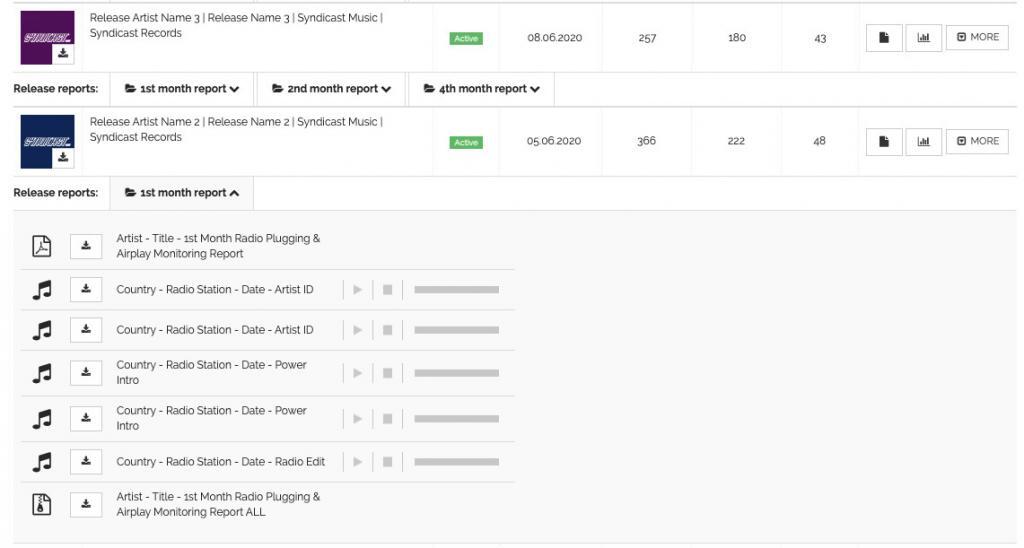 2. INVITE YOUR ARTISTS TO SEE THE CAMPAIGN DATA IN REAL-TIME
You can add the featured artist(s) to your release(s). They will be able to see the campaign data in real-time. They are not able to edit the data in any way, as they will only see it in "viewer" mode.
If you would like to add an artist to any of your releases, please follow these steps: https://syndicast.co.uk/radio-plugging/artist-invitation
3. RADIO PLUGGING CAMPAIGN DATA DISPLAY FUNCTIONALITY
Thanks to this new view, from now on you can oversee all of your campaign data together. You will be able to see the below-listed data real-time, right from the start of a campaign without waiting a month for the first report.
Release statistics – delivery rate, stations by category  and countries

Breakdown by track versions – number of downloads of each version of the track (radio edit, Artist ID & power intro versions, extended mix, remixes etc)

Country report – number of stations reached in each country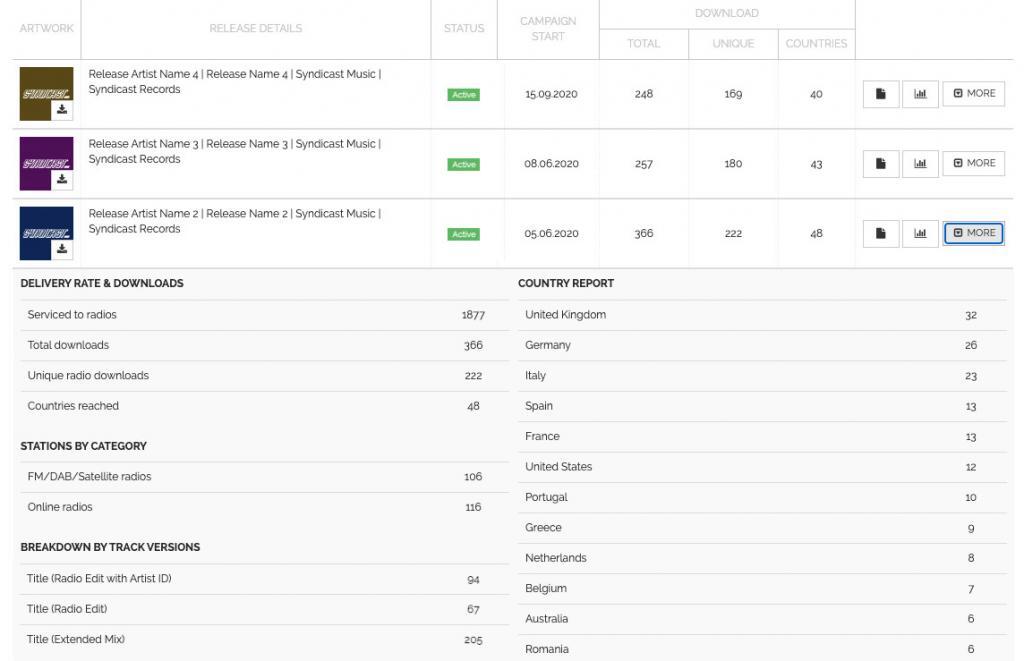 4. RADIO PLUGGING FOR ARTISTS
Artists are also able to start and finance a campaign directly and add the related record label once the campaign is already set.
Also, radio plugging campaigns can now be financed by the artists directly, while record labels still keep full control over the release.
We hope that these features will make using Syndicast even better and easier.
If you have any running campaigns check out the new view by logging into your account here: https://app.syndicast.co.uk/releases
If you do not have any campaigns, do not hesitate to launch a campaign to get global airplay for your releases.